Description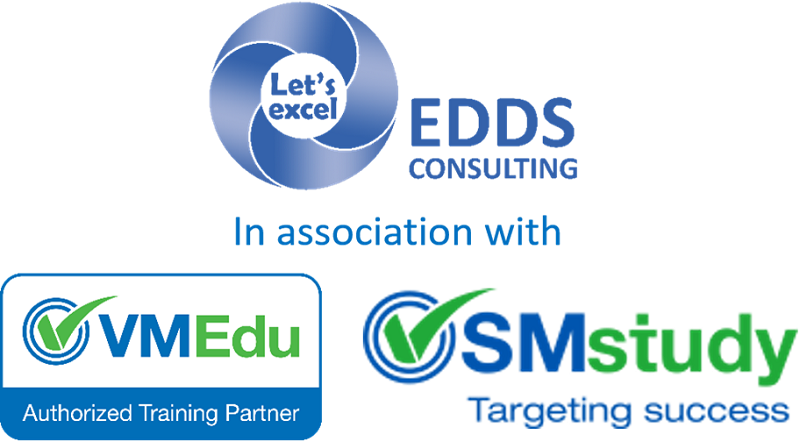 EDDS Consulting in an Authorized Training Partner with VMEdu Inc, USA and SMstudy. SMstudy is the certifying authority.
---
The SMstudy® Certified Marketing Research Fundamentals course is tailored to anyone interested in knowing various marketing methods; learning key concepts in Marketing Research as defined in the SMstudy® Guide; and gaining a basic understanding of the Marketing Research framework that helps to conduct marketing research and to analyze sales and marketing data. Upon completion of the coursework, the SMstudy® Certified Marketing Research Fundamentals exam will validate your basic understanding of Marketing Research. On passing the exam, you will be accredited as a SMstudy® Certified Marketing Research Fundamentals.
35+ High Quality Videos High quality, interactive, and engaging online videos teach each chapter and knowledge area. All course videos are prepared and presented by industry experts.
2+ Helpful Study Guides Study guides for each chapter cover key concepts in all knowledge areas. These are also available in downloadable formats that can be accessed whenever needed.
32+ Test Questions Practice tests for each chapter help students gauge their preparedness. You even have the flexibility to select the number of chapter test questions you want to attempt.
77+ Terms and Definitions Important terms and concepts for all chapters and knowledge areas are included. You can also use these terms as a collection of flashcards for practice and review.
10+ PMI Approved PDUs PMI approved PDUs for continuing certification requirements as set by PMI ensure that the certified professional's competencies are up to date and relevant.
2+ Illustrative Case Studies Interesting and illustrative case studies present real-life scenarios ensuring effective learning. These case studies are fun to solve and provide great insights at the same time.
Mobile App Access courses in all formats anytime, anywhere through our innovative mobile app and enjoy the same learning experience that you get online.
Progress Tracking Track your progress in any course and chapter online or on mobile app and continue from where you left off.
Audience Profile Anyone interested in knowing more about Marketing Research can take up this course and exam for free.
Prerequisites There is no formal prerequisite for this course.